Whether you are visiting the Virgin Islands on vacation, or reside there, it helps to know what the weather has in store. This is especially relevant if you are heading out on the water, or during storm season.
Satellite Weather Loops
Zoom Level:
24 hour loop; subtract 4 hours for local time
VI Weather Basics
Recent Weather
"What's Past is Prologue"
We've installed a weather station on the roof of the gazebo at Coconuts, on Gifft Hill, St. John, and the graphs below provide a real-time record of the weather there for the previous and the current day. If you move your cursor over the weather graphs, hover pop-ups provide additional details. Note that Coconut's altitude is 750 feet, so the air temperature measurements there will typically be about four degrees cooler than those down at sea level.
Air Temperature & Dew Point (°F)
Wind Speed and Gusts (mph)
Wind Direction
Relative Humidity (%)
Rainfall and Daily Total (in)
Barometric Pressure (Inches of Mercury)
Data source: Coconut's weather station
Five Day Forecast
Shower Icons? Don't Panic!
First-time visitors to St. John can become concerned when the forecast for their upcoming vacation shows several or mostly rainy days. No worries, mon! In almost all cases, this simply means that somewhere, sometime within the greater VI there will be a brief rain shower on that given day. In nearly all cases, the sun will pop back out after a few minutes. The official five-day weather forecast for St. John is as follows:
Tropical Storm Forecast
While the tropical storm season technically runs from June 1st to November 30th, the vast majority of storms cluster into August and September. For those concerned about tropical storms, please note that the Atlantic Ocean is vast, and both the eye of a storm and each of the Virgin Islands are quite small; the odds of a direct strike are therefore very low. St. John sustained substantial damage from Category 5 Hurricane Irma on September 6th, 2017. Prior to Irma, the last major hurricane to hit the VI was Category 3 Marilyn, twenty-two years earlier in 1995.
During storm season, tropical waves form off the western coast of Africa. Some will curve up into the central Atlantic; others may track closer to the VI. It takes about ten days for a tropical wave to make it to the VI, which gives us plenty of advance notice. Along the way it may be upgraded to a tropical depression, then a named tropical storm, and in a few cases each year, a hurricane. In nearly all cases, the storm center will pass safely north or south of the VI, but if the system is large, we can get heavy rains from its outer bands. Fortunately, these storms move quickly, so one or at most two days of inclement weather is all we get before the sun comes out again. But residents and visitors under ten days out should monitor any disturbances or named storms between the VI and the coast of Africa. Click on the "5 Day" button below to see the forecast cone of disturbances; for named storms, please check with the NHC, at the link in the text below the graphic.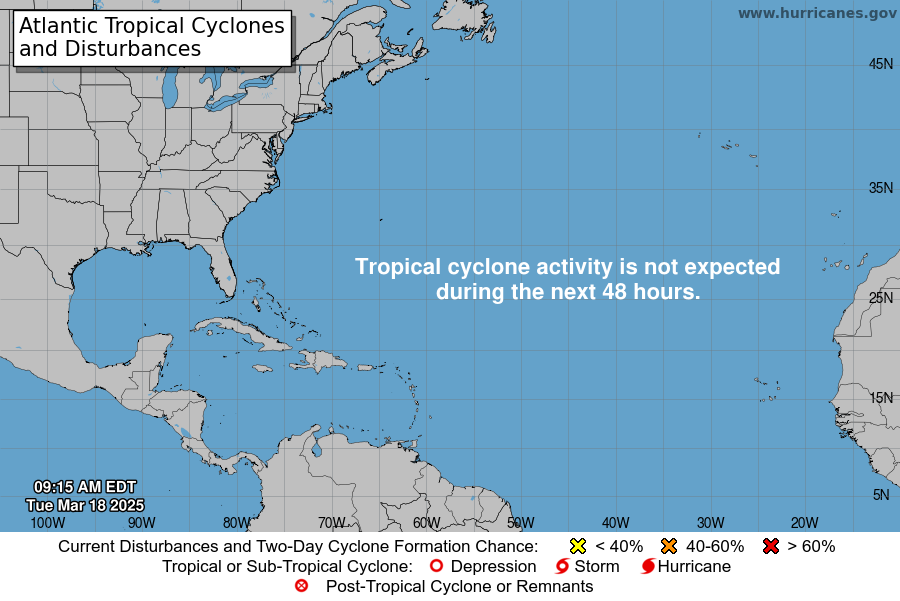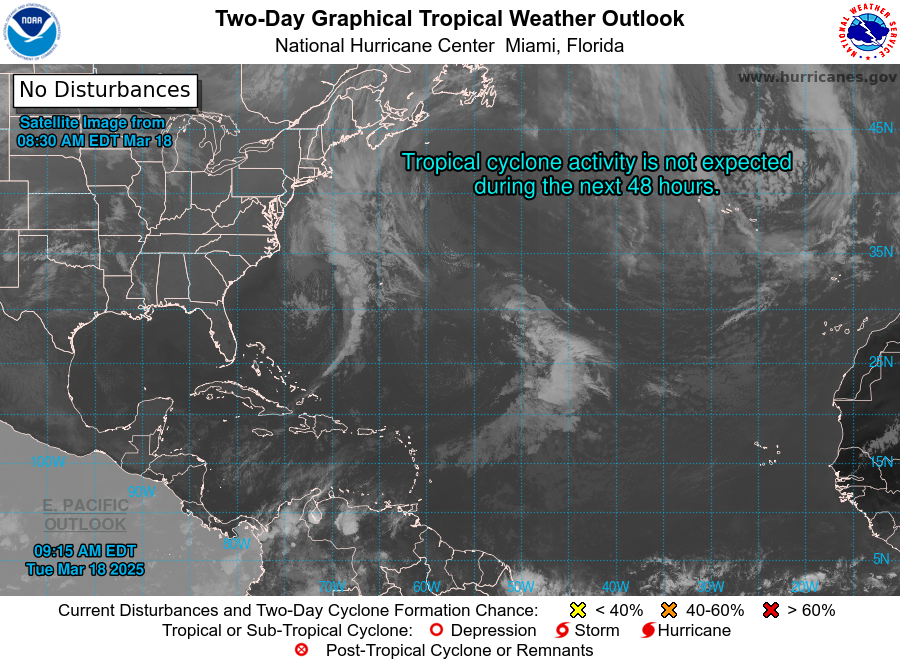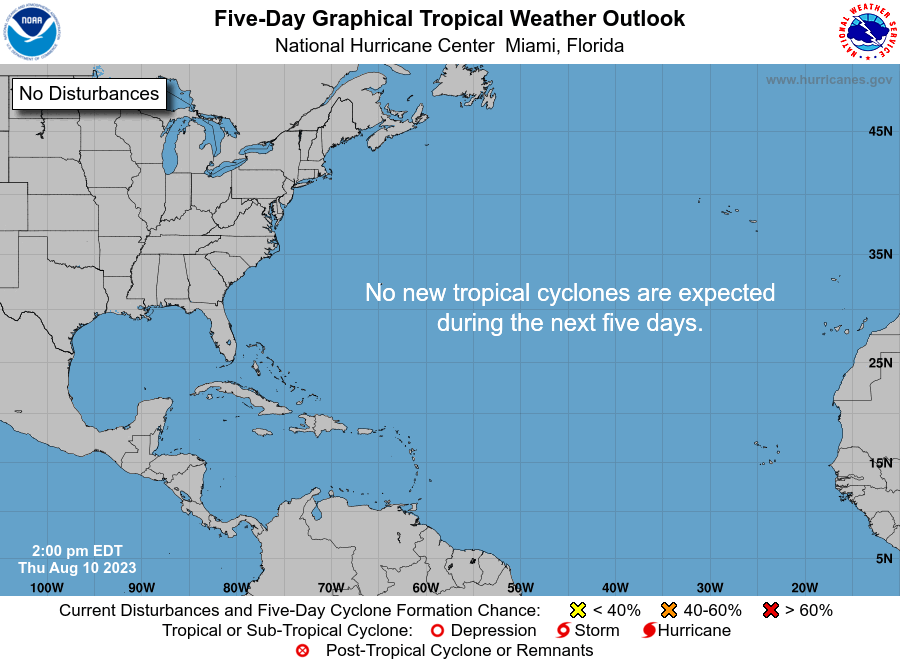 During tropical storm season (June 1st to November 30th), detailed NHC discussions of any active hurricanes approaching the VI will be available below, in the scrollable "Tropical and Developing Storm Activity" section.
Tropical and Developing Storm Activity
Additional Hurricane Resources:
In the event that a tropical storm or hurricane is approaching the VI, we recommend that you closely monitor additional information at the National Hurricane Center.
Start by hovering over the red "X" or named storm icon in the graphic at the above NHC link, and reading the text in the pop-up window. Then click on "5-Day Tropical Weather Outlook" to see the forecast cone.
Updates are made every six hours, at 0, 6, 12, and 18h UTC, which correspond to 8PM, 2 AM, 8 AM, and 2 PM EDT/AST. Individual updates will switch to every three hours once a disturbance becomes a named tropical storm.
Additional technical details are also available once it is a named storm; these can be accessed by clicking on the storm symbol in the graphic at the above NHC link, and then clicking on "Discussion".
For detailed "spaghetti models" with a number of track and intensity forecasts, check out Tropical Tidbits and Weathernerds.
Early cycle track and intensity guidance can be monitored here about one hour after each NHC update: National Center for Atmospheric Research You will first need to click on the particular disturbance or storm in the global map.
Informative and up to date commentary on active storms is also available at Eye On the Storm.
Windy is an awesome wind visualization tool, which draws upon advanced US and European computer models to predict storm activity up to ten days in advance: Windy.
Sahara Dust Forecast
From April to October, high altitude winds can carry dust from the Sahara Desert into the Caribbean. When there is dust in the Virgin Islands, distant views will be hazy. The computer animation below provides a five day forecast for Sahara dust; levels above 20 will make distant views hazy. Fortunately, Sahara dust can clear out as quickly as it arrives. To see how quickly views can go from crisp to hazy (and back again), check out this post. Sahara dust also has its upsides; it plays an important role in suppressing hurricane activity. Over the millennia, dust transport from the Sahara built up the fertile Amazonian rainforest, and iron in the dust fertilized bacteria that built the limestone Great Bahama Bank.
Click start to animate:

Rough Seas & Surf Forecast
North Shore
For much of the year, the surf at St. John's North Shore beaches is very mild, even lake-like, and swell heights of concern to boaters are moderate (3 to 6 feet). In winter, storms far off at sea can send large swells our way, which will produce rough surf on exposed North Shore beaches such as Hawksnest, Trunk, and Cinnamon. In the summer months, passing tropical storms can briefly have the same effect. Be sure to check the North Shore swell graph before heading out on the water, or planning scuba dives on the North side of St. John.
Swell heights above 8 feet will produce rough surf, and at 10 - 12 feet or higher, Trunk Bay Beach is likely to be closed to swimming. Protected North Shore beaches include Caneel, Maho, and Francis, and any South Shore beaches are also great options when the North Shore seas are running high. The North Shore graph below plots the swell heights at a buoy 170 nautical miles north of St. John for the last 5 days. Spikes in swell height will take about 8 hours to arrive at St. John's north shore beaches, which provides useful advance notice of North Shore rough surf and seas. Note that the swells that reach the North Shore will be reduced in height compared to those at the buoy, due to buffering provided by Jost van Dyke, and the islands and cays to the north of Pillsbury sound.
Note: The wave height sensor on buoy 41043 failed on May 10, 2023. We have notified NWS and NOAA.
South Shore
Much of the description from the North Shore discussion applies to seas and surf along St. John's South Shore, but the seasonality is different; rough seas and surf along St. John's South Shore are more likely in the summer months, when the trade winds shift to a bit south of due east. When the sea are high, you can even surf in some South Shore bays in the summertime! Unlike the North Shore buoy, the South Shore buoy is only 4 nautical miles south of St. John, so its swell height data is essentially real time. If you are planning to boat or dive on St. John's South Shore, it's worth checking this buoy data before heading out on the water.
Ocean Temperatures & Tides
The graphs below chart the ocean temperature at a buoy just south of St. John, as well as the tides at Lameshur Bay, on St. John's South Shore. Ocean temperatures in shallow waters swing about 2.5°F from early morning to mid-afternoon, when the ocean is at its warmest. Mid-afternoon ocean temperatures range from 81°F in February, to 87°F in September. The ocean stays pretty warm well into December, before ramping down to its "nippier" winter levels.
While St. John lacks any extended landmass to amplify tidal levels, significant tidal currents can occur, especially where adjacent islands such as Great Thatch channel tidal flows. Tidal currents may vary in timing and strength depending on where you are snorkeling. For exposed snorkels such as Waterlemon, please use caution, and return to shore if you encounter strong currents
Ocean Temperature (°F)
Data source: NOAA.gov
Tide Levels and Predictions (feet)
Marine Forecast
Before you head out on the water, be sure to check what the sea and sky has in store!
Virgin Islands
Caribbean/Atlantic
Visual Weather — The CocoPlum Cam
The "CocoPlum Cam" is located near the boundary between Coconuts and Plumeria, and provides an immediate visual check on the weather, along with a great live view out over Pillsbury Sound. Click on the "Play" icon to start live video. Moving your cursor over the video feed below will show controls to pause the video, or expand it to full screen. To return to the web page, simply hit the "Escape key", or click on the "Toggle full screen" icon. Our villas are located on the highest westward facing ridge on St. John, and provide spectacular sunset views. Be sure to check back around sunset time, or to catch your ferry in transit!
Trunk Bay Tourist Forecast
Fortunately, Trunk Bay is the only one of over 35 beaches on St. John that hosts cruise ship passengers. If this external link indicates that a number of cruise ships will be docking in St. Thomas on any given day, you should probably plan your visit to Trunk Bay for early morning, or late afternoon.
MegaYacht Forecast
St. John draws more than its share of remarkable mega-yachts, especially in high season. This external link allows you to check in on any large vessels within VI waters. Hovering over any vessel symbol will reveal its name, speed, and bearing. Clicking on its symbol will pull up an incredible amount of additional information on the vessel.
Sunrise/Sunset Forecast
On many evenings and mornings in the Virgin Islands, nature puts on some pretty spectacular sunsets and sunrises. Sunsets are best viewed from the western, Cruz Bay side of St. John, while sunrises are best viewed from the eastern, Coral Bay side. We're a bit biased, of course, but are convinced that Gifft Hill, and especially our villas, offer the finest sunset panoramas on St. John. The sunset (or sunrise, for you east end early risers) show can last for nearly an hour, and some planning is required to ensure that you leave the beach (or Happy Hour bar) in time to find yourselves properly ensconced in the deck chairs or hot tub, libation in hand, shortly before the show begins. That brings us to the plots below, which tell you both when and where sunsets and sunrises will take place.
Hover over the graphs below to view the exact Sunrise/Sunset details for your chosen date.
Please note that the Moonrise and Moonset times have not been updated for 2023.
2023 Sunrise/Sunset Forecast
Planetary Forecast
Planets (with the exception of Mercury) are fairly bright, and don't twinkle as stars do. Along with the Sun and the Moon,they always follow a path called "the ecliptic", which roughly runs from east to west across the sky. Here's a guide on where to find the naked-eye planets during the night sky in 2023:
2023 Calendar Year
Mercury:

This planet can be seen for several weeks at a time, but only a few times each year. Look for it low in the west, shortly after sunset, and and never more than 15 to 20 degrees above the setting sun. Dates to catch Mercury in 2023 include a week either side of April 11th, August 10th, and December 4th. Binoculars can help to find it around those dates, but once you know where it is, Mercury can be seen by eye.

Venus:

As 2023 begins, Venus is visible just after sunset, a little above where the sun just set. As the year progresses, Venus sets later and later after sunset, getting higher and higher in the western sky, and much brighter. In June, as it gets closer to Earth, it will appear half lit in a small telescope. Venus then begins to set earlier every evening, as it prepares to lap Earth on the inside. In early July, it will hit maximum brightness, far brighter than any other planet or star (excepting our sun), and look like a crescent in a small telescope or even binoculars. By the end of July, Venus will be setting only 25 minutes after the sun, and by early August, it will have left the night sky for the rest of the year.

Earth:

Look downward, mid-way between your two feet.

Mars:

Blood-red Mars is well placed at the start of the year, high in the east, near (and easy to mistake for) the red star Aldebaran in Taurus. In February and March, Mars is nearly overhead at 8 PM. As the year goes on, it heads into the western sky, and on July 1st, Mars will pass within a few degrees of the much brighter Venus. In August, Mars will be low in the west at sunset, and by mid-September, it will leave the night sky for the remainder of the year.

Jupiter:

At the beginning of 2023, Jupiter is high in the west at sunset, but sets earlier and lower in the sky each night. On March 1-2, Jupiter passes within one full moon of Venus. By the end of March, it sets shortly after sunset, and will then be lost to the night sky until early October, when it begins to rise again in the east at sunset. Jupiter will get higher and higher over the next few months, and by the end of the year, it will be nearly overhead at 8 pm. Jupiter's four moons are easy to see in a small telescope, and change their position from night to night.

Saturn:

This planet with its beautiful system of rings can be seen in the west after sunset at the beginning of 2023, above Venus and below Jupiter, where they form an orderly line. By early February, though, Saturn is setting just after the sun, and is then lost to the night sky until September, when it begins to rise in the southeast. During October and November, it climbs ever higher in the south, before moving into the southwestern sky after sunset by year's end. Saturn's brightest moon Titan can be seen beside the planet in a telescope.
Rainbow Forecast
The Virgin Islands can serve up some pretty spectacular rainbows, but it's important to know when and where to look for them. The basic rule is that the center of the rainbow will always be 180 degrees away from the sun. This means that you will never see a natural rainbow at midday, because 180 degrees from the midday sun would be directly underground. The only time to see a full rainbow is either in the west, in the first hour or two after sunrise, or in the east, an hour or two before sunset. It also takes the right sort of passing cloud or brief tropical rain shower, but we have lots of those to improve the odds. The above charts for Sunrise and Sunset times and directions can also help. So, on the Cruz Bay side of things, look to the west for rainbows with your early morning coffee, and on the Coral Bay side, look east with your Happy Hour beverage. And be sure to look for a double rainbow, where a fainter copy of the glorious original appears about 10 degrees above it, and with a reversed order of colors.
You can also look for Moonbows. These are a lot fainter, with barely discernible colors, but can be really cool when you catch one. Look opposite a rising or setting full moon, with opposite rules to the above rainbow forecast: look west from Cruz Bay when the full moon rises in the east, an hour or two after sunset, and look east from Coral Bay as the full moon sets in the west, an hour or two before dawn.
Enjoy!
Early Morning Double Rainbow over Trunk Bay
St. John's Star-filled Nights
Surrounded by the VI National Park and the Caribbean Sea, St. John offers incredibly dark skies for stargazing. Nights are clearest in the winter months, when there is less water vapor, and no Sahara Dust to contend with, but incredible star-filled nights can occur in any season. In winter, Orion is directly overhead, while in summer, the Milky Way spans the night sky, with Sagittarius and Scorpius wheeling high in the South. The moon is a spectacular subject for binoculars and telescopes, but to observe the stars, it's best to look a week either side of a new moon. The phases of the moon are shown by icons as you hover over the Moonrise and Moonset plots a few sections up on this page. Below is an astrophoto that I assembled from a series of exposures on a clear January night. Click within the image to bring up a higher resolution version. Enjoy!